Nowadays almost everything is printed in 3D. Why should architecture be an exception? Many architecture firms use 3D printing as their preferred technique for building structures. It is a simple, efficient and innovative technique that reduces the risk of errors and also saves time! 3D printing avoids and simplifies many tedious steps during the construction process. It's used to build homes, habitats on Mars, and even coral reef islands! The potential and possibilities of 3D printing in architecture are endless and overwhelming. We have put together a collection of 3D printed structures that have fascinated us – from a sustainable global living space to a Martian home, we have something for all types of bow lovers!
TECLA is a fully 3D printed global living space based on natural materials. Construction of TECLA began in 2019 as a prototype near Bologna, Italy, in response to pressing societal problems of explosive population growth that inevitably led to a lack of affordable housing. TECLA is made from fully reusable, recyclable materials sourced from the local terrain. It should be a model for circular living as well as for eco-living. The living space was designed by Mario Cucinella Architects and brought to life by WASP's engineering and printing technology. TECLA will be the first house to be fully 3D printed using local clay that has been used for centuries in countries like India as an affordable and environmentally friendly alternative to cement. Clay is a biodegradable and recyclable material that makes the building a zero waste structure.
What would you print with free access to a 3D printer and resources? My imagination vacillates between custom-made accessories and a tiny house! The architecture firm MEAN * (Middle East Architecture Network) did just that and designed a complete 3D-printed pavilion to welcome visitors from all over the world to the mystical desert of Wadi Rum in Jordan. Fun fact about Wadi Rum – it looks so much like the Martian landscape that it has been used as the stage for several space films, including 'Rogue One: A Star Wars Story', a cult classic! The desert pavilion was created as a communal oasis of heritage and microecology. If you look at the renderings, the structure is a mix of local Bedouin architecture and space technology. The design team envisioned an innovative use of 3D printed panels by placing them on top of a CNC bent steel tube system. In order to simulate a holistic tent-like structure, the team used a mixture of 3D-printed polymer shells on 3D-printed concrete topography with the parametric strategy "Mesh Relaxation".
Prvok is the name of this project and it will be the first 3D printed house in the Czech Republic built by Michal Trpak, a sculptor, and Stavebni Sporitelna Ceske Sporitelny, a notable member of the First Building Society. The house is floatable and it only takes 48 hours to build! Not only is this seven times faster than conventional houses, it also reduces construction costs by 50%. No brick, cement and concrete (which alone are responsible for 8% of CO2 emissions!) Are used, which means that CO2 emissions are reduced by 20%. Imagine how much CO2 could be reduced if this were used to build a colony. A robotic arm called Scoolpt, designed by Jiri Vele, an architect and programmer, is used in 3D printing and can print up to 6 inches per second.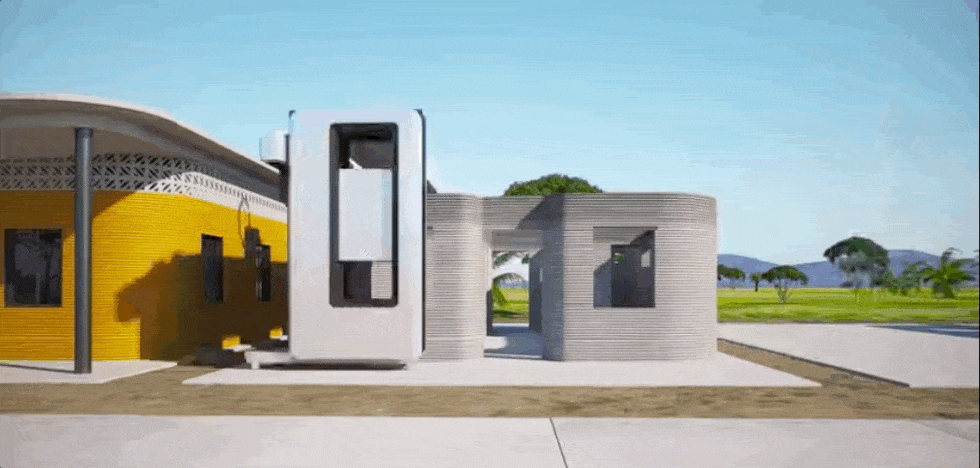 Nonprofit New Story, tech company ICON, and design studio fuseproject have worked together to put an end to global homelessness … or at least stimulate the beginning of its end. How did you do that? They recently unveiled the world's first 3D printed neighborhood in Tabasco, southern Mexico. Yves Béhar and his studio fuse project designed the houses by working directly with the families for whom they were built. "When we spoke to the community members, we found that a single house design did not meet their needs and expectations," said Béhar. "This led us to develop a system that enables different programs, climatic factors and growth for families and spaces." Parishioners were involved in the selection of the property and throughout the planning process to ensure that their housing needs were met. The end result will be a vibrant, 3D-printed neighborhood of fifty one-story houses spanning 500 square meters for the poorest communities, always the last to benefit from innovation and technology.
Bjarke Ingles BIG and the 3D-printed construction company ICON are working on the Olympus project – a mission to develop a robot construction for the moon. Bjarke Ingles is the Elon Musk of the architectural world, he loves exploring the impossible and has a penchant for designs that can help save humanity from his eco-friendly buildings to Project Olympus. The Olympus project is about finding a way to use materials on its surface to create a 3D-printed infrastructure for life on the moon. Why do we need a habitat on the moon? So that we can start sustainable lunar exploration missions where the astronauts can stay comfortable and carry out their research over longer periods of time. The project also hired SEArch + (Space Exploration Architecture) after winning a government contract for Small Business Innovation Research (SBIR) that was funded by NASA.
BiodiverCity is one of Bjarke Ingels' latest projects. It is a city of three islands connected by autonomous vehicles for land, sea and air to make this an emission-free transportation habitat off the coast of Malaysia. Three islands are being built in Penang to serve as cultural, business and residential centers. The most striking thing about the development is that all transportation on the 4,500 hectares will consist of autonomous boats, vehicles and air travel, making the islands car-free and pedestrian-friendly. Construction is one of the largest sources of carbon emissions, even more so than the aerospace industry. To reduce the environmental impact, most buildings are prefabricated or 3D printed on site, and others use a combination of bamboo, Malaysian wood and "green concrete" made from recycled materials such as aggregates.
To deal with the extreme weather in Texas, ICON and 3Strands have teamed up to build four 3D printed houses in Austin. They are made from ICON's special cement-based Lavacrete, which comes from Portland. The material is exposed to extreme weather conditions and is also mold-resistant. The 3D technology used by ICON is proven to build safer and more disaster-resistant homes. The houses are able to withstand floods, wind, fire and other natural disasters more successfully compared to normal houses. The four houses expand from a bedroom to a four bedroom and also include parking spaces, porches and gardens! They are spacious living quarters that protect residents from the harsh Texas storms!
Kamp C claims to have built the first one-piece 3D printed house in Westerlo, Belgium. The house was printed by the largest 3D concrete printer in Europe. It consists of two floors and was built on site! It's eight meters high, has a footprint of 90 square meters, and was put together pretty quickly. The 3D printed house is energy efficient and has underfloor and ceiling heating, a heat pump and special solar panels. They even plan to add a green roof!
The design, titled Mars X House, is optimized for the printing requirements of Mars and consists of an inner layer of HDPE, followed by an outer shell of concrete and basalt fibers, which is finally reinforced on the outside with vertically spiral-shaped ribs. The house is divided into three zones, with their own emergency exits (the outer spiral staircase). At the very top is a water reservoir that puts pressure on the building which, combined with the shape of the building, prevents an explosion due to the pressure imbalance from the inside to the outside.
Reeform was designed as a series of modular islands that can transform any waterfront promenade into a public space. The aim is to support life on land and under water. The floating island is a portmanteau of the words reef and form and has a two-piece design. The upper half is designed as a hexagonal floating platform made entirely from recycled plastic, while the lower half biologically mimics the design of corals with 3D printed concrete and calcite. As a result, both the upper and lower halves are considered areas of interest to humans and marine life alike. People can use the modular platforms to create social spaces on bodies of water such as river banks, lakes or pools, while the coral-inspired lower half helps reduce ocean acidification and encourage the growth of living corals, which in turn has its own marine ecosystem creates. Attract fish and other underwater animals. It's a win-win situation!