Nathalie Wamja is a volunteer from Greenpeace Africa in Douala, Cameroon. She is very active in stopping the destruction that plastic pollution is wreaking in her city – hundreds of people lose their homes every year due to flooding caused by clogged drains. © Nathalie Wamja / Greenpeace Africa
In my city, Douala, there are always floods. Every year during the rainy season we experience flooding of homes and businesses as well as sidewalks. All of this affects the quality of water and food and has ruined many people's lives by losing their homes, livelihoods, and even family members.
My name is Nathalie Wamja and I am a Greenpeace volunteer in Douala, Cameroon. I want to tell you how plastic pollution is wreaking havoc in my community and is a major threat to the people in my community.
I wanted things to change because I have family members who are experiencing major floods that are devastating their living environment and a friend who has lost his business. When something hurts or hurts a loved one, it calls us twice.
I wanted to understand why there was so much flooding in Douala. I also wanted to know why the quality of our food has changed over the years. So I started looking for answers. And what I discovered while observing trenches, drains, and all the places where water was stagnant, was the enormous amount of plastic garbage in each place. Plastic waste prevented the water from circulating and draining off our streets.
Every year, residents of Douala, Cameroon experience dangerous flooding due to plastic pollution blocking drainage during the country's rainy season.
I was very shocked at the extent of the problem. But how dependent we have become on single-use plastic in our daily lives made me understand how the problem arose. If you walk around my neighborhood you will see plastic bottles flooding our gutters and plastic packaging that is freely used in our markets even though import is prohibited.
Knowing how destructive plastic was in my city led me to make every day a "ZERO plastic" day. I reject single-use plastic and do what I can to inspire others to do the same: give tips for a plastic-free life and, if possible, introduce alternative packaging solutions such as reusable bags.
You will hardly see any plastic packaging in my house. All single-use plastics you find are washed and dried for reuse or return to the sellers in the market as there are few replacements. I shop with my own bags and I usually refuse to wrap my goods in single-use plastic.
But that is not enough. To combat plastic pollution on a daily basis, I spend my time raising awareness about how to stop plastic waste. I meet sellers in the market to educate them about plastic packaging pollution. I also hear their opinions and their suggestions or contributions to solve the plastic problem; In all honesty, the solutions to plastic pollution are in the hands of those who produce and regulate plastic production.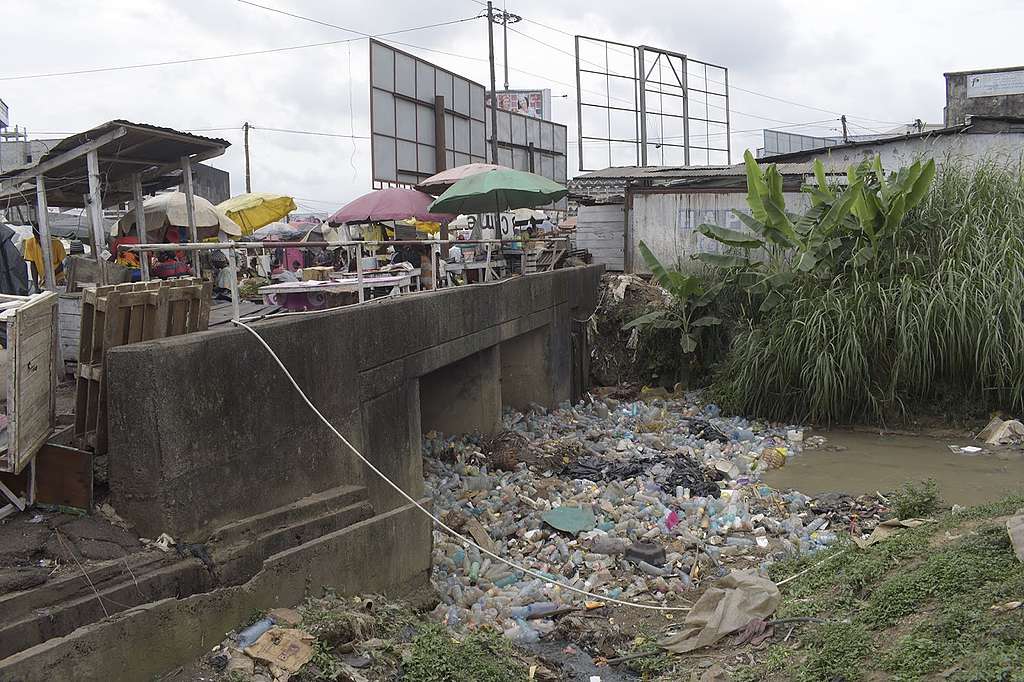 Plastic pollution clogs a stream under a bridge in the Dakar district of Douala, Cameroon © Greenpeace Africa
I often help the Clean Cameroon association and the Autonomous Port of Kribi to clean the coast of Kribi, and I organize plastic waste cleanups with Greenpeace volunteers and the Clean Cameroon association to clean up the drains. But since no matter how much cleanup we do, there is always more plastic to be replaced shortly afterwards, we joined #breakfreefromplastic brand audits to analyze the plastic we find during cleanups to find out who's for the pollution is responsible.
What we need is a total ban on the manufacture of plastic packaging and we need to systematically apply the import ban on plastic packaging. This will encourage companies to develop alternative and more sustainable solutions such as refilling and reuse.
To make this a reality, I spread my ideas by writing mini-articles that I share on WhatsApp to raise awareness; I get people to sign petitions calling for stricter plastic restrictions; I also accompany other environmentalists who are working in the city of Douala to improve plastic waste management. And I hope that one day there will be no more flooding in my city due to plastic waste.
Nathalie Wamja is a Greenpeace volunteer in Douala, Cameroon.