Manufacturing systems maker Ingersoll Machine Tools has partnered with aviation company Bell to 3D print a 22-foot vacuum trim tool – a shape used to make helicopter rotor blades.
The project, which resulted in significant lead time savings, was completed with Ingersoll's own large format Hybrid MasterPrint system, a gantry-based 3D printer with built-in 5-axis milling functionality. According to Ingersoll, the MasterPrint is the largest polymer 3D printer in the world. The system is specifically designed for the manufacture of extra-large production parts and is located at Ingersoll's headquarters in Rockford, IL.
"We are continuously testing and developing MasterPrint in our development center," said Chip Storie, CEO of Ingersoll. "One of Ingersoll's short-term goals is to bring MasterPrint to aerospace 3D printing molds that will maintain the geometric properties and tolerances, vacuum integrity, and autoclave strength that are typically achieved with traditional technology, but at cost – and the time reduction that only additive manufacturing can offer. The relentless advances our MasterPrint process made in 2020 have finally made this goal achievable. "
The vacuum trim tool in its printed form. Photo via Ingersoll.
1,150 lb ABS
The vacuum trim tool was made of 1,150 lb ABS with a 20% carbon fiber fill and it took about 75 hours to print from start to finish. After the printing process was complete, the mold surfaces and additional features for tool position were incorporated into the part by replacing the printing module for a 5-axis milling head.
The milling process was completed in another week and the final trim tool was made completely vacuum tight. A Siemens 840D CNC control system is used for both 3D printing and processing of the MasterPrint.
By choosing to 3D print the part rather than machine a large format mold, the partners were able to significantly reduce the lead time of the project. With the additive and subtractive parts of the workflow developed in a native CAD software format, the entire manufacturing process took about 3 weeks. In contrast, the traditional build cycle for a typical aluminum mold of this size would take between four and five months.
James Cordell, Bell Senior Manager, Process Stability, added, "Bell has used composites to make airframe components for many years, including components made on an Ingersoll Machine Tools belt layer machine. These similar materials are now used to make the molds that make up the airframe components. By using this high-speed manufacturing equipment, Bell can significantly accelerate the development of tooling for many applications within the Bell organization. "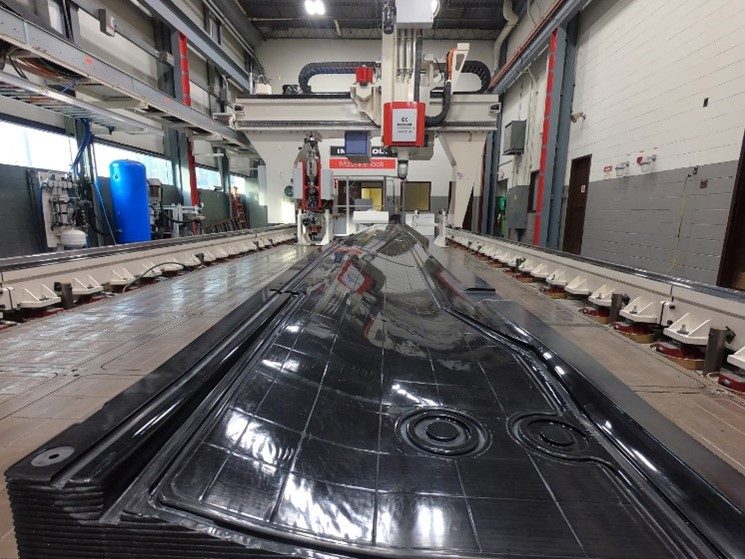 The last 22 foot vacuum trim tool. Photo via Ingersoll.
Large-part production with the MasterPrint
This is not the first time Ingersoll's MasterPrint 3D printer has been used in its large part production capabilities. Earlier this year, the University of Maine (UMaine) received $ 2.8 million from the Department of Energy (DoE) to develop a greener method for 3D printing wind turbine blade shapes. With the help of a user-defined variant of the MasterPrint, the researchers are currently creating their blade shapes in a bio-based nanocellulose starting material. Once the project is complete, lead times are expected to be cut by months and cost savings of 25 to 50% will be achieved.
Previously, UMaine also used its custom MasterPrint system to create the world's largest 3D-printed solid object (and largest 3D-printed boat). The 25-foot, 5000-pound 3D-printed boat is called 3Dirigo, and it was already tested and christened at the university. It was made in just three days using a mixture of plastic and wood cellulose.
Subscribe to the 3D printing industry newsletter for the latest news on additive manufacturing. You can also stay connected by following us on Twitter and liking us on Facebook.
Looking for a career in additive manufacturing? Visit 3D Print Jobs for a selection of roles in the industry.
The image shown shows the final 22 foot vacuum trim tool. Photo via Ingersoll.