Nanofabrica's Tera 250 technology lifts the lid for designers and manufacturers in their quest to take advantage of the inherent benefits of AM, and enables them to leverage the power of 3D printing to create complex parts in small, medium, and large quantities timely and. to build inexpensive fashion. We spoke to Avi Cohen, Global EVP Sales at Nanofabrica, about the disruptive nature of the company's micro-AM technology and how it has dealt with issues related to the global COVID pandemic.
3D printing industry: how was Nanofabrica during the COVID pandemic?
Avi Cohen: COVID has largely skewed our ability to properly interact with our customers and prospects. As the lockdowns caused by the pandemic begin to wear off, we are stepping up today by taking a prominent position at various leading trade shows and events, and also participating in online and in-person activities that allow us to more easily engage with our potential customer base . We didn't let the grass grow, however, and have expanded our user base over the past 18 months as more and more companies have recognized the commercial benefits of using a micro-AM solution to precisely manufacture plastic parts.
3D printing industry: can you briefly explain how the Tera 250 works?
Avi Cohen: The Tera 250 is based on a Digital Light Processor (DLP) engine, but to achieve repeatable resolution in the micrometer range, DLP is combined with the use of adaptive optics. This tool in conjunction with a number of sensors enables a closed feedback loop, which is why the Tera 250 from Nanofabrica can achieve a very high level of accuracy while remaining cost-effective as a manufacturing solution. In addition, through rigorous research and development, Nanofabrica has succeeded in developing its own proprietary materials (based on the most widely used industrial polymers) that enable ultra-high resolution in built parts.
3D printing industry: what do your customers typically use the Tera 250 for?
Avi Cohen: Our customers usually use our technology for the in-house production of precise plastic parts for prototypes or complete series, or they use it to meet the demand for such parts as part of a contract manufacturing service.
Aran uses the Tera 250 to make innovative parts impossible with traditional manufacturing technologies. Photo via Nanofabrica.
A key customer is Aran Research and Development in Caesarea, Israel, who consider using the Tera 250 to drive product innovation to be key. AM enables the production of parts with geometrical complexity that would not be possible with traditional manufacturing methods, and the Tera 250 therefore puts Aran R&D in a unique position to meet industry demand for extremely accurate and innovative micro parts.
In the future, 3D printing / AM will continue to be used as a replacement for traditional manufacturing technologies and this will continue to focus on applications where the use of the technology reduces the time and cost of manufacturing, as is the case with Aran. As a general rule of thumb, in order for 3D printing to be used as a fast manufacturing technology for a given application, it must have at least a 10x improvement in costs and / or time savings to offset the associated costs and risks with the move from one traditional manufacturing technology. For Aran, this is absolutely the case and proves that 3D printing is now a clear and efficient alternative to conventional manufacturing processes.
We have also just placed a machine at the leading micro-injection molding company Accumold in Ankeny, Ohio, USA. With Nanofabrica's technology, manufacturers can benefit from the inherent advantages that AM offers: Part complexity without increasing costs, elimination of expensive tools, reduction in the number of parts and assembly requirements, reduction in time-to-market, easy revision of part design, possibilities for mass customization and reduction of waste. and energy costs.
These benefits led Accumold to invest in the Tera 250, an indication that AM and traditional technologies can coexist and complement each other. This is how AM can generally work in real-time production scenarios.
The Tera 250 micro AM system equips Accumold with new service functions, especially for small and medium-sized production series, where the costs for conventional tools would not make projects profitable.
A primary interest is making Direct Rapid Soft Tooling (DRST) with the Tera 250, which enables prototyping and small batch production without the lead times and costs associated with traditionally manufactured tools. Before the introduction of the Tera 250, DRST was considered suboptimal from the point of view of surface quality, precision, accuracy and repeatability, whereby the number of materials to be processed was also a limiting factor. The Tera 250 system addresses these challenges to achieve micrometer resolution, achieve high surface quality, and reduce the time-consuming and costly process involved in cutting steel.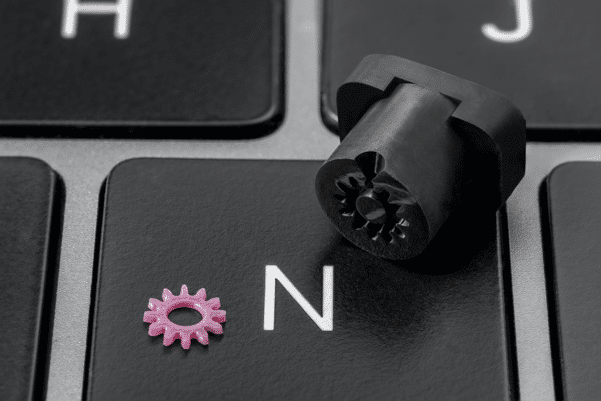 Nanofabrica has made great strides in the manufacture of DRST. Photo via Nanofabrica.
Nanofabrica has had breakthrough success in high volume manufacturing of a single DRST using Tera 250 technology. The Tera 250 has managed to inject standard thermoplastic materials such as PP, PE and ABS into a 3D printed mold made with a new, proprietary material from the company.
3D printing industry: what's next when we start the second half of 2021?
Avi Cohen: We look to the future with optimism and hope that the exit from COVID restrictions will continue. Going forward, building on the dynamics of the past 18 months and Nanofabrica will be exhibiting at the upcoming Rapid 2021 and Formnext events. At Rapid 2021 from September 13 to 15 in Chicago, IL, USA, Nanofabrica will be showing the parts that can be produced on the Tera 250 machine at booth E8540. At Formnext from November 16-19 in Frankfurt, Germany, the Tera 250 machine will be made available to a broad potential customer base for the first time, Mikro AM.