Starting next year, a new exhibition will show the potential of advanced technologies that help companies ramp up their polymer-based production.
The now annual B2B event called Plastics Live is aimed at everyone who makes polymer products and hosts an "AMPLAS" exhibition that focuses on the latest trends in 3D printing. In addition to workshops, conferences and exhibitions, the new conference will also cover sensitive topics such as the sustainability of plastics when it starts in Coventry, UK from July 5-6, 2022.
"We believe now is the time to move forward and showcase the best of the plastics industry," said Scott Colman, director of Plastics Live. "We want to adequately illustrate all the positive things that the industry is able to do, and most importantly communicate how plastics can be of unique and indispensable benefits for both our environment and our global society."
"Plastics Live is for future-oriented plastics manufacturers who focus on their future viability and profitability and are committed to it."
Plastics Live will host four different sections, each highlighting the potential of polymer manufacturing. Image via Polymers Live.
A large polymer shop window
Founded by and for professionals in the polymer industry, Plastics Live is designed to curate and promote the best that the industry has to offer. According to the organizers of the fair, the industry has been "under severe pressure" in recent years, but has also helped secure key supply chains against COVID-19, which is now the ideal time to reveal their potential.
Throughout the event, attendees will learn about the latest in injection molding, extrusion, and thermoforming, as well as updates on related materials, peripherals, and automation solutions. Plastics Live will not be made available to the general public, but will be held solely as a trade fair for the industry, to which manufacturers, material processors and their sales and marketing teams are invited.
In addition to more than 500 industry leaders and exhibits from over 150 suppliers, the event also offers a robust conference program with speakers on important topics such as future security, performance optimization and energy saving, as well as a "Sustainable Plastics Live" segment, which is dedicated to the environmental friendliness problems that the Publicly followed the sector for the past five years.
"We are excited to work with Plastics Live to promote this new, unique event in the plastics industry," said Carl Futcher, managing director of headline media partner PlastikMedia of the event. "PlastikCity and PlastikMedia are very future-oriented and our ethos aims to promote the best in the industry, so our partnership with Plastics Live is an excellent fit."
"I believe that the format will bring something completely new to the industry, especially since it highlights the key issues and technologies that are becoming very important for our manufacturers."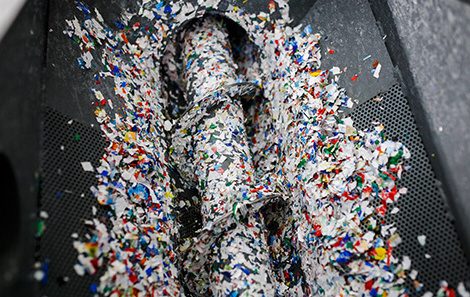 Sustainability will be one of the central themes at Polymers Live next year. Photo via Covestro.
AMPLAS and Industry 4.0
With regards to 3D printing, the current issues, trends and advances in technology will be exhibited and explored under Plastic Live's AMPLAS banner. As additive manufacturing increasingly demonstrates the ability to produce small to medium-sized batches of end-use parts, the events segment will explore how injection molding can complement applications of the technology, and vice versa.
Visitors from the aerospace, automotive, defense and medical sectors are expected and the organizers of the show are now accepting exhibitor registrations. In a similar way, Plastics Live is also attractive for speakers, especially those with specialist knowledge in the areas of digitized inventory, in-process monitoring, material innovation or post-processing.
In addition to AMPLAS, Plastics Live will also host a section entitled "Industry 4.0 in Plastics", in which exhibitors will show how networked processes are revolutionizing the factory floor. Participants can therefore experience firsthand how process transparency can contribute to optimized product quality, reduced costs and on-time delivery of customer orders.
"Plastics Live is all about innovation and has a strong forward-looking approach," Colman concluded. "Those companies that prefer to stand still will not be comfortable with our format. Those who lean forward will benefit and thrive from getting involved. "
Plastics Live, scheduled to take place July 5-6, 2022 at the Coventry Building Society Arena (formerly Ricoh Arena), is now accepting registrations from representatives intending to visit. Interested parties can apply via the event website.
Post-Pandemic Events from AM
Most of the past year, the 3D printing community has been unable to meet in person due to the restrictions introduced to contain COVID-19, but with those being lifted, live events are now back on the agenda. The industry's largest event, Formnext, had to take place last year in the form of Formnext Connect in a fully digital format, but the personal elements are set to return in 2021.
The organizers of the event, Mesago Messe Frankfurt, are also doing everything in their power to offer applicants for the Start-Up Challenge the best possible opportunities to participate. The competition period will now be extended from July 2 to July 16, 2021 and will be assessed by the editor-in-chief of the 3D printing industry, Michael Petch.
The annual conference of the Additive Manufacturing Users Group (AMUG) also exceeded expectations when it was held in Orlando in May 2021. With around 100 exhibitors and more than 800 participants, the event was one of the first major personal 3D printing events to take place since the COVID-19 lockdowns in early 2020.
The nominations for the 3D Printing Industry Awards 2021 are now open. Who do you think should be shortlisted for this year's show? Now give your opinion.
To stay up to date with the latest 3D printing news, don't forget to subscribe to the 3D printing industry newsletter, follow us on Twitter or like our page on Facebook.
To delve deeper into additive manufacturing, you can now subscribe to our YouTube channel, which features discussions, debriefings, and recordings of 3D printing in action.
Are you looking for a job in the additive manufacturing industry? Visit 3D Printing Jobs for a selection of positions in the industry.
The picture shown shows the exhibition area of ​​the plastics conference NPE Orlando 2021. Photo about recycling today.