The shortlists of the 3D Printing Industry Awards 2021 are open to voting. Now give your opinion.
The specialist in pharmaceutical 3D printing, FabRX, has worked with researchers from University College London (UCL) and the Spanish Universidade de Santiago de Compostela (USC) to 3D print a novel drug-containing medical device for the treatment of dry eye.
The team used a 3D printing process with digital light processing (DLP) to make punctum plugs, which are small medical devices that are inserted into the tear duct of an eye to block it and prevent fluid drainage.
Loaded with dexamethasone, an anti-inflammatory drug, the 3D printed punctum plugs are designed to alleviate dry eye symptoms and provide an alternative treatment method to topical administration such as eye drops.
The DLP 3D printing process and the in-house flow rig model for in vitro dissolution studies. Image via MDPI.
3D printed drugs from FabRx
FabRx is a UCL spin-out that has been using 3D printing technology for some time to develop personalized drugs and drug delivery devices. Although the technology is largely in the development phase, 3D printing offers several significant advantages for clinical pharmaceutical drug development, such as: Pharmacies and places that are difficult to access.
FabRx has previously worked with UCL and USC in this area to develop personalized medicine for children with the rare metabolic disorder maple syrup urine disease (MSUD). In 2019, the partners made 3D-printed chewable tablets called printlets, which offered similar efficacy but higher patient acceptance rates compared to traditional treatments for the disease.
Shortly afterwards, FabRX presented its M3DIMAKER 3D printer at the ILMAC trade fair in Switzerland. The desktop-sized FFF system is specifically designed to enable the manufacture of personalized drug delivery devices in the required doses selected by doctors.
Last year, FabRx used an SLS 3D printing process to make the printlets with braille and moon patterns on the surface to make medication easier for patients with visual impairment, and recently released a paper detailing both the state of 3D printed medicines and the clinical potential of the technology.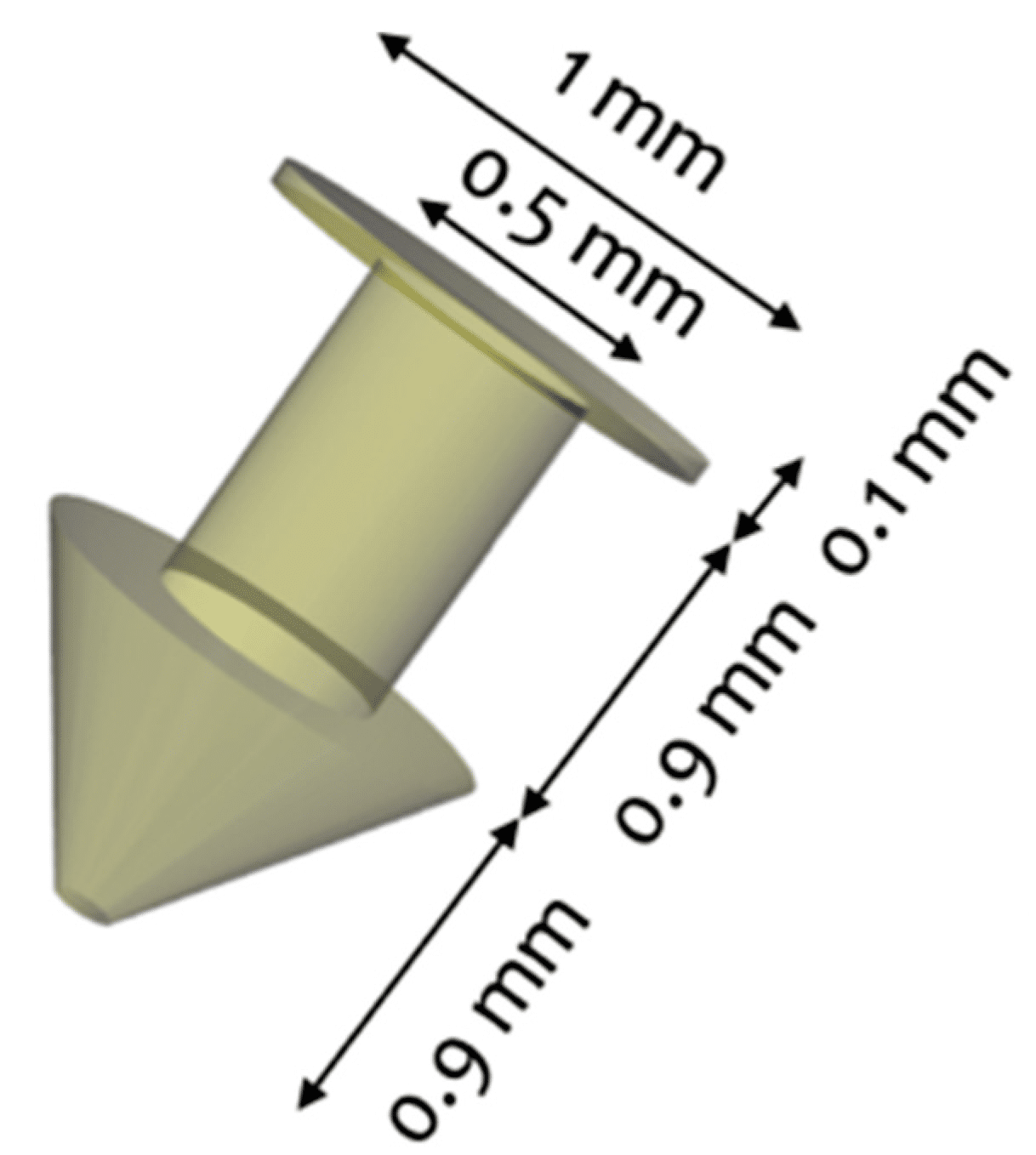 3D design of the punctum plug manufactured by the researchers. Image via MDPI.
Fight dry eye
For their latest partnership, FabRx, UCL and USC have explored how 3D-printed medical devices could offer an alternative treatment for dry eye, a common chronic condition that affects millions of people around the world. Dry eye occurs as a result of insufficient tear production or increased evaporation of the tear film and, if left untreated, can lead to corneal inflammation and infections such as conjunctivitis.
Dry eye syndrome is typically treated by topical delivery methods such as eye drops, but according to FabRx, ocular bioavailability – the proportion of a drug that gets into the circulation when introduced into the body – tends to be poor from such formulations.
The use of punctum plugs is a non-invasive treatment strategy for alleviating dry eye syndrome and works by blocking the tear duct to prevent tear drainage and improve the stability of the tear film. Photopolymerization-based 3D printing techniques such as DLP offer excellent feature resolution and a smooth surface finish and, because they work at room temperature, can also avoid the thermal degradation of drugs in medical devices.
DLP 3D printing would also enable the manufacture of various sizes, shapes, and drug doses of punctum plugs in a single step, and as such, the partners sought to evaluate their capabilities against conventionally manufactured punctum plugs and topical delivery methods.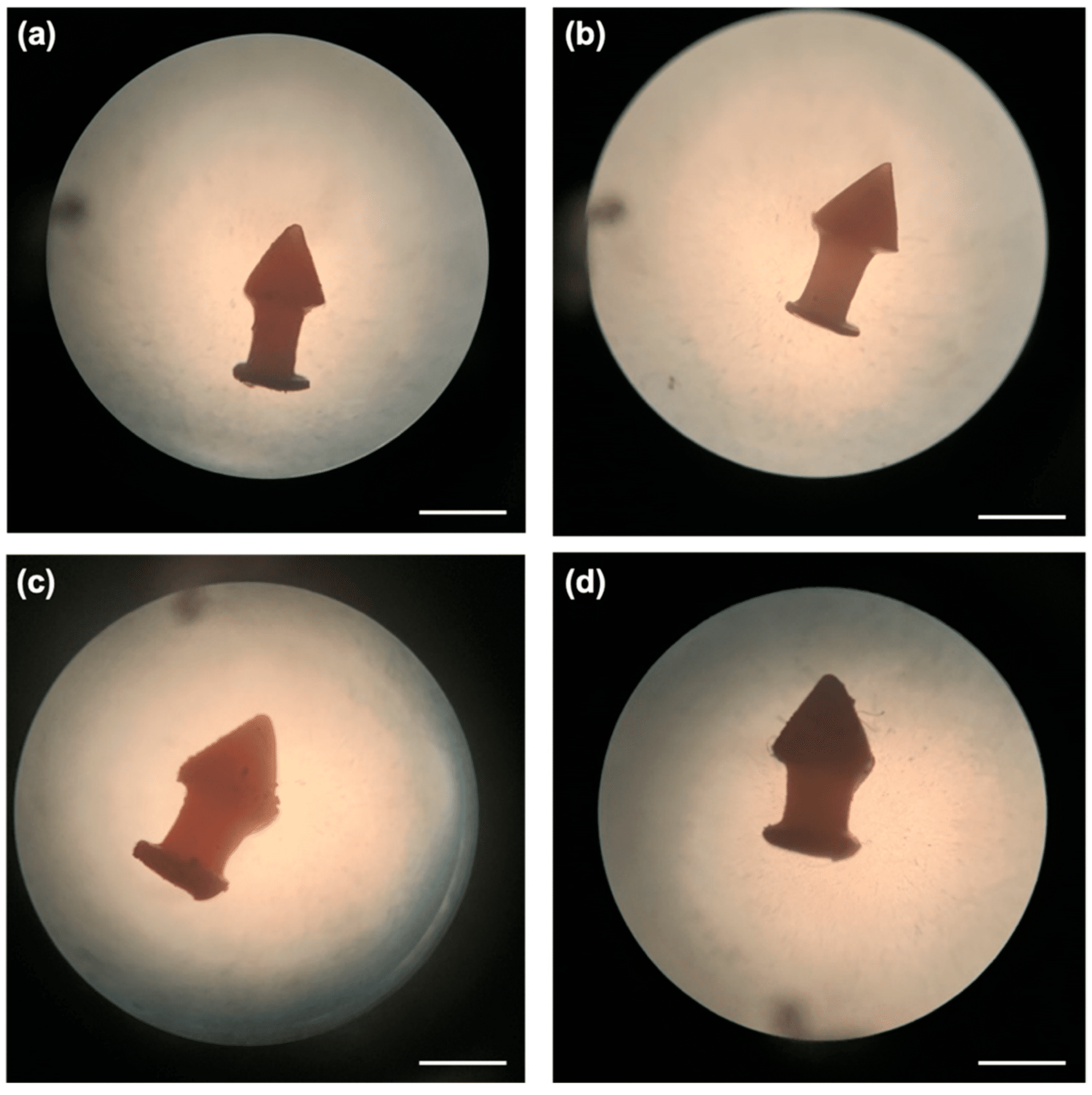 Light microscope images of the DLP-3D-printed (a) D10, (b) D10PEG, (c) D20 and (d) D20PEG punctum plugs. Image via MDPI.
3D printing of the punctum plugs
During the study, various formulations of drug-loaded punctum plugs in polyethylene glycol diacrylate (PEGDA) hydrogels were made using direct DLP 3D printing. The punctum plugs were designed to be inserted into the punctum of the eye with a configuration similar to that of commercially available punctum plugs, with a length of 1-2 mm and a diameter of 0.2-1 mm.
The punctum plugs were successfully printed with a commercial DLP 3D printer, namely the Titan2 HR system, with different concentrations of dexamethasone. According to FabRx, the devices were manufactured with good resolution and reproducibility and have a tapered shaft for easy insertion and removal.
In just 20 minutes, more than 20 punctum plugs could be produced in a single print, apparently demonstrating the power of 3D printing technologies for the production of personalized drug delivery devices in small series.
The researchers tested their 3D-printed punctum plugs on a self-made in vitro model that mimics the subconjunctival space of the eye. Complete prolonged drug release of the dexamethasone was achieved within four to 11 days, depending on the amount and formulation of the drug within the punctate plug.
For example, the in vitro tests showed that drug release from D10PEG and D20PEG dot plugs could be sustained for a week, while D10 and D20 plugs were able to prolong drug release with 50 percent of the dexamethasone over five and 11 days, respectively.
According to the partners, DLP 3D printing offers a high degree of flexibility in personalizing the size, shape and material of the plug compared to conventional methods of manufacturing punctum plugs such as molding, in order to meet different patient needs. The study also shows the potential of drug-eluting punctum plugs to aid a range of eye conditions, including open-angle glaucoma, ocular hypertension, and bacterial conjunctivitis.
For more information on the study, see the article published in the MDPI Pharmaceutics Journal entitled, "3D Printed Punctal Plugs for Controlled Ocular Drug Delivery". The study was co-authored by X. Xu, S. Awwad, L. Diaz-Gomez, C. Alvarez-Lorenzo, S. Brocchini, S. Gaisford, A. Goyanes, and A. Basit.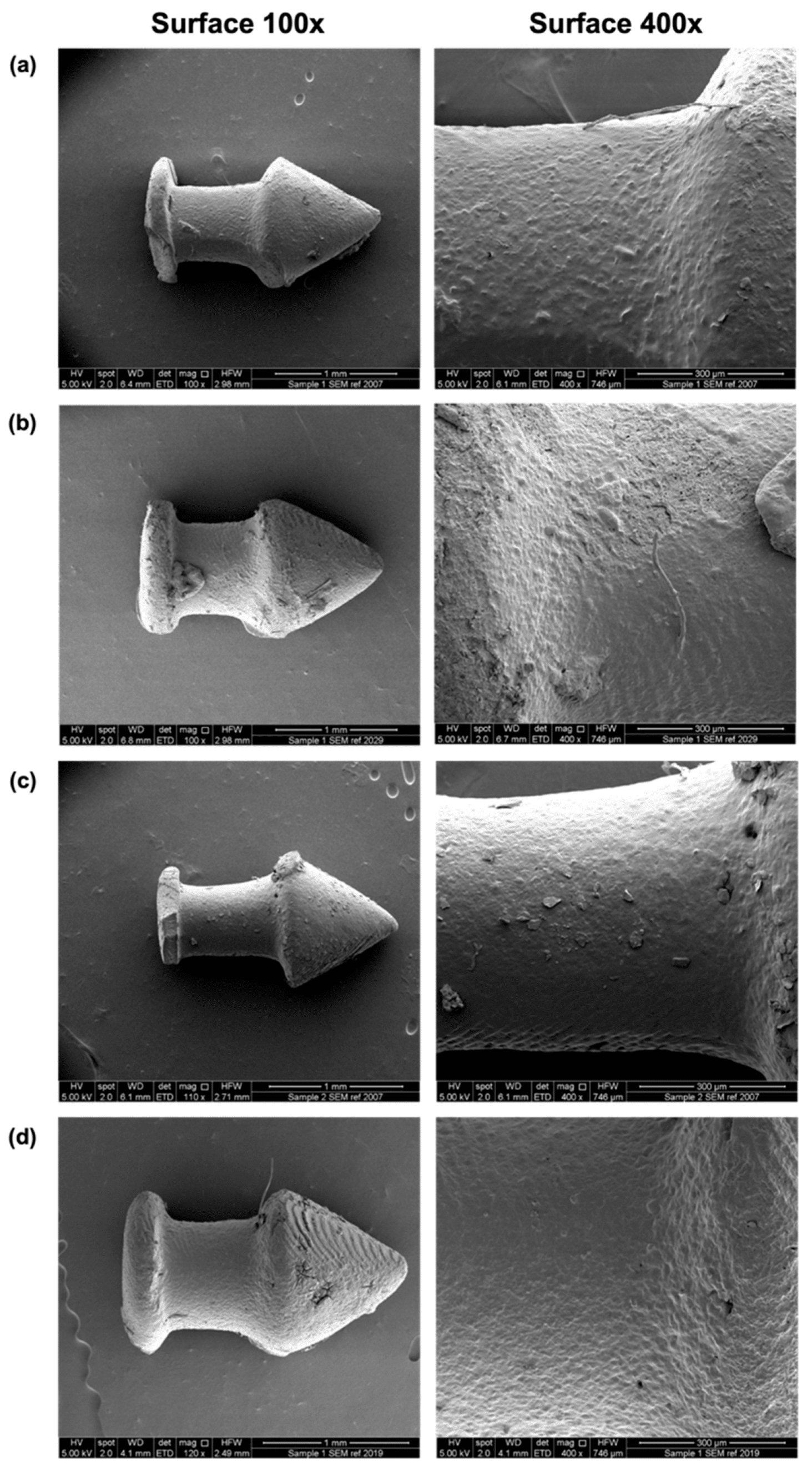 SEM images of the DLP 3D printed (a) D10, (b) D20, (c) D10PEG and (d) D20PEG punctum plugs. Image via MDPI.
Subscribe to the 3D Printing Industry Newsletter for the latest news in additive manufacturing. You can also stay connected by following us on Twitter and liking us on Facebook.
Looking for a career in additive manufacturing? Visit 3D Printing Jobs for a selection of positions in the industry.
Subscribe to our YouTube channel for the latest 3D printing video shorts, reviews, and webinar reruns.
The picture presented shows SEM images of the DLP-3D-printed (a) D10, (b) D20, (c) D10PEG and (d) D20PEG punctum plugs. Image via MDPI.